---
About Integra
Integra began operations in August 2002 as an alternative service solution to users of RP equipment with the simple desire to offer a superior level of support to the market. Integra has over 25 years of technical experience in the Rapid Prototyping industry at your disposal along with a commitment to total customer satisfaction. We recognize that every employee is accountable to the customer, regardless of title or responsibility.
Together our team provides the solid foundation of a unique service organization that is here to provide your company a quality alternative for all of your RP service and support needs. We offer standard and customized support packages, time and material work on request, as well as real time phone support.
Please call on us if you have any questions or if we can be of service.
Latest Product
Nitrogen Generators For LS Systems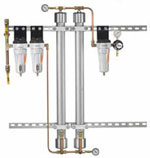 The M1 nitrogen generation method is a unique system that utilizes a durable production device to consistently deliver high-purity nitrogen with minimum maintenance.
Click here for more info